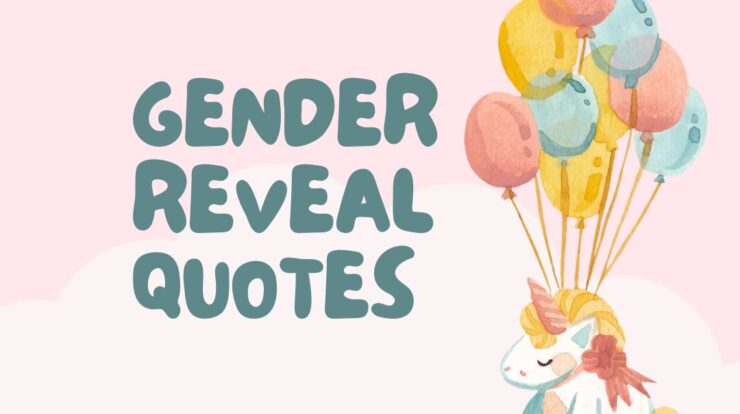 Gender reveal parties have become a delightful trend, offering an opportunity to celebrate and share the news of the upcoming addition to the family. One of the most heartwarming ways to do so is through thoughtful quotes that express the emotions and anticipation surrounding this momentous occasion. In this article, we present the top 10 gender reveal quotes that encapsulate the joy, surprise, and love that come with such celebrations.
Top 10 Gender Reveal Quotes
"Blue or Pink, What Do You Think?"
This playful quote adds an element of excitement and curiosity, inviting everyone to make their guesses about the baby's gender. It's a lighthearted way to engage friends and family in the anticipation.
"Sugar and Spice or Everything Nice?"
This quote beautifully captures the traditional expectations associated with gender, evoking the image of sweetness and charm for a baby girl.
"Bows or Bowties, What's Your Guess?"
Incorporating elements of fashion, this quote sparks conversations and adds an element of style to the gender reveal celebration.
"Prince or Princess, Soon to Be Revealed!"
This quote resonates with the fairy tale theme, creating a sense of enchantment and royalty around the upcoming baby.
"Wheels or Heels? The Answer is Here!"
With a modern twist, this quote incorporates both traditional and contemporary imagery, emphasizing the diverse interests and talents the child might have.
Share these Gender Reveal Quotes with your friends.
"Lashes and Curls or Trucks and Pearls?"
Celebrating the variety of interests and characteristics a child can have, this quote playfully contrasts different aspects of personality.
"Twinkle, Twinkle, Little Star, How We Wonder What You Are!"
Inspired by the classic nursery rhyme, this quote adds a touch of nostalgia and charm, evoking feelings of warmth and familiarity.
"Team Blue or Team Pink – What's Your Team?"
Turning the gender reveal into a friendly competition, this quote brings out the fun spirit of the celebration.
"Adventure Awaits, It's a Boy/Girl!"
This quote hints at the exciting journey of parenthood ahead, creating a sense of anticipation and wonder.
"Our Family is Growing by Two Feet!"
This heartwarming quote celebrates the upcoming addition to the family, emphasizing the love and togetherness that will flourish.
FAQs About Gender Reveal Quotes
Q: Can I use these quotes for any gender reveal announcement?
A: Absolutely! These quotes are versatile and can be used in various ways, from social media posts to party decorations.
Q: Should I reveal the baby's gender at the same time as sharing the quote?
A: The choice is entirely yours. Some prefer to reveal the gender along with the quote, while others might build suspense and share the news later.
Q: Can I customize these quotes to make them more personal?
A: Of course! Feel free to add your own touch to these quotes to make them reflect your unique personality and style.
Q: Where can I use these Gender Reveal Quotes?
A: These quotes can be used on gender reveal party invitations, cake toppers, banners, and in any creative way you choose.
Q: Are gender reveal parties still popular?
A: Yes, gender reveal parties continue to be a popular and enjoyable way to celebrate and share the news of an upcoming baby.
Q: Can I find more gender reveal ideas online?
A: Absolutely! There are numerous online resources, blogs, and forums dedicated to sharing creative gender reveal ideas and inspiration.
Conclusion:
Sharing the joy of a gender reveal is a heartwarming and exciting experience. These top 10 gender reveal quotes offer a creative and meaningful way to announce the news to your loved ones. Whether you choose a playful, poetic, or whimsical quote, the words you select will add a touch of magic to this special moment.
So, go ahead and pick a quote that resonates with you and captures the essence of the joyous occasion.
Read More