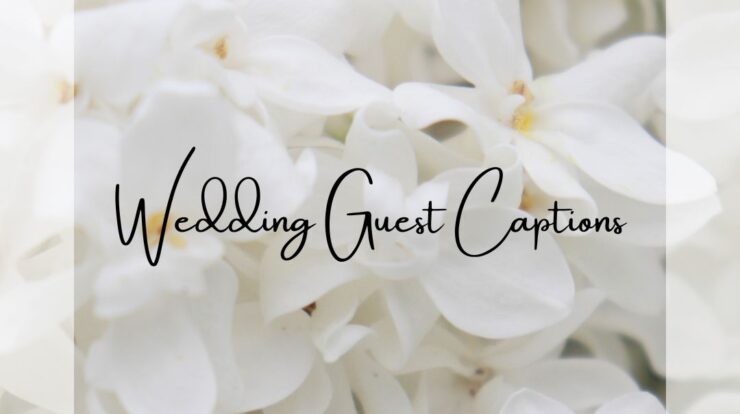 In this article, we present the top 10 wedding guest captions that will help you encapsulate the essence of the event and create lasting memories.
Attending a wedding is more than just witnessing the union of two souls; it's about celebrating love, joy, and togetherness. Your presence as a wedding guest contributes to the happiness of the couple, and what better way to commemorate the occasion than with captivating captions for your photos?
Top 10 Wedding Guest Captions
"Two Hearts, One Journey"
Embrace the love and unity that this special day brings.
"Dancing through Love Stories"
Capture the magical moments on the dance floor, where love stories come alive.
"Forever Begins Today"
Witness the start of a beautiful forever for the newlyweds.
"A Toast to Love and Laughter"
Raise your glass to celebrate the couple's laughter-filled journey ahead.
"Spectators of Everlasting Love"
Being part of their love story is an honor that shines through every photograph.
Share these Wedding Guest Captions with your friends.
"Happiness in Every Click"
Find joy in capturing the happiness that radiates from every corner of the venue.
"Celebrating [Bride's Name] and [Groom's Name]"
A tribute to the stars of the day – the bride and groom themselves.
"Candid Moments, Priceless Memories"
The candid shots capture emotions that words often fail to express.
"Love-filled Atmosphere, Endless Memories"
The love in the air is palpable and translates beautifully into your pictures.
"Cherishing Every Congratulatory Hug"
Hugs, laughter, and good wishes – every moment is a treasure.
wedding guest captions for instagram
"Celebrating the union of [Bride's Name] and [Groom's Name] with joy and love. 💍❤️"
"Dancing the night away at a magical celebration of love and togetherness. 🕺💃"
"Raising a glass to a future filled with happiness for [Bride's Name] and [Groom's Name]. 🥂❤️"
"Witnessing the beautiful moment when two hearts become one. Pure joy all around. ✨❤️"
"Capturing candid moments that will be cherished forever. 📸💞"
"To [Bride's Name] and [Groom's Name], as they embark on their journey together. 🥂💑"
"Surrounded by love and laughter, a day to remember forever. 💕📸"
"Sharing in the joy of a love-filled celebration. 💖"
"Every click holds a memory from a day filled with love and happiness. 📸❤️"
"Embracing the energy of this magical day, a true celebration of love. ✨❤️"
funny wedding guest captions
"Just here for the cake and the dance moves! 🍰🕺"
"They said there'd be an open bar, and I said 'I do' to that! 🍹😄"
"Attending another wedding like I'm on a romantic comedy tour. 🎬❤️"
"My dance moves are ready, and so is the buffet. Let's do this! 💃🍔"
"When the lovebirds tie the knot, and I'm here to witness the masterpiece. 🦢❤️"
"I might catch the bouquet by accident. Who's to say? 🌸😉"
"Wearing my dancing shoes and my 'I'm not crying, you are' face. 😂❤️"
"Attending the love party of the year and taking my dance moves out for a spin. 💃🎉"
"I told them I'd bring my best dance moves, and I wasn't kidding. 🕺😄"
"Getting dressed up and ready to dance like nobody's watching. Except they totally are. 👀💃"
cute wedding guest captions
"Love is in the air, and I'm here to soak up every moment. 💖"
"Two hearts, one celebration. Honored to be part of their journey. 💑❤️"
"Bringing all the warm wishes and happy tears to this beautiful day. 🥂✨"
"Witnessing the start of forever for the sweetest couple. 🌟❤️"
"From strangers to friends to forever. Love watching their story unfold. 💞"
"Celebrating love, laughter, and a happily ever after. 🎉❤️"
"Their love story just got a new chapter, and I'm lucky to be in it. ✨💑"
"Cherishing the magical moments and creating memories that'll last a lifetime. 📸❤️"
"Bringing smiles, hugs, and a heart full of love to their special day. 🥰🌸"
"Love is the most beautiful reason to celebrate, and I'm here for it. 💖👰🤵"
Capturing the Essence
Capturing the essence of a wedding in captions requires a blend of creativity and sentimentality. As you celebrate with the couple, think about the emotions you want to convey through your captions. From the tender moments shared during the vows to the exuberant dance moves on the floor, each photograph holds a story waiting to be told.
FAQ's About Wedding Guest Captions
How can I choose the right Wedding Guest Captions for the moment?
Choosing the right caption involves connecting the caption's emotion to the captured moment. For instance, a heartfelt caption complements an emotional exchange, while a playful one suits a candid shot.
Can I use famous quotes as Wedding Guest Captions?
Absolutely! Incorporating well-loved quotes that resonate with the occasion can enhance your captions and add depth to your photos.
Should I personalize Wedding Guest Captions or keep them general?
Personalized captions that reflect your emotions and connection to the couple make the photos more meaningful. However, general captions can work for candid or group shot
How do I strike a balance between sentiment and humor?
Balancing sentiment and humor depends on the atmosphere of the event. Heartfelt captions work best for emotional moments, while light humor adds charm to candid shots.
Is it necessary to use the couple's names in Wedding Guest Captions?
Using the couple's names adds a personalized touch to the captions. However, if you're sharing photos on a public platform, you can also opt for more general captions.
What if I'm not good at coming up with Wedding Guest Captions?
No worries! You can find inspiration online, explore popular wedding-related quotes, or even brainstorm with friends to come up with creative captions.
Conclusion
Weddings are a celebration of love, and your role as a guest goes beyond attendance. It's about being part of a memorable chapter in the couple's love story. As you capture these moments, remember that the top 10 wedding guest captions provided in this article are designed to help you cherish and relive those special memories.
With sentiment, humor, and a touch of creativity, your captions will forever encapsulate the magic of the day.
Read More