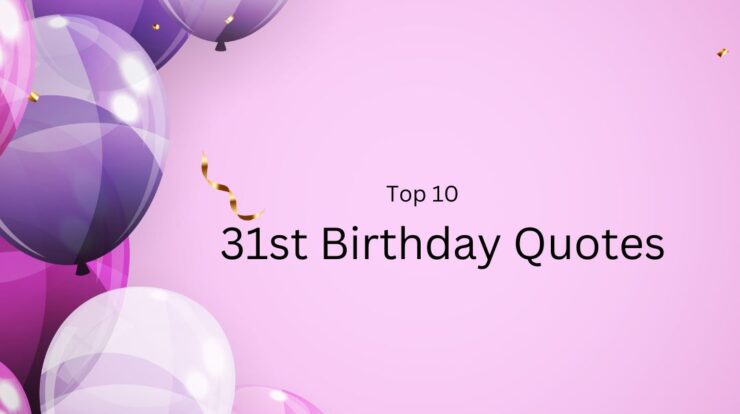 Turning 31 is a significant moment – it's a blend of youthful energy and growing wisdom. Celebrating this milestone requires the perfect words to express your feelings and good wishes. Whether you're looking for heartfelt sentiments or a touch of humor, our collection of top 10 31st birthday quotes has you covered. In this article, we'll share inspiring quotes to help you make your loved one's 31st birthday truly memorable.
Top 10 31st Birthday Quotes:
"Embracing a New Chapter"
"Welcome to 31! May this new chapter bring you adventures, growth, and joy beyond measure."
"A Year Wiser, A Heart Fuller"
"As you turn 31, remember that each year adds to your wisdom and each experience enriches your heart."
"Forever Young at 31"
"Age is just a number, and at 31, you're proving that you can still rock and roll with youthful spirit!"
"Cheers to 31 Years!"
"Here's to another year of laughter, love, and all the wonderful things that life has in store for you."
"31 and Thriving"
"Life truly begins at 31 – embrace the journey and thrive in all that you do."
Share these 31st Birthday Quotes with your friends.
"A Journey of 31 Years"
"Your journey through 31 years has been remarkable. Here's to the adventures that lie ahead!"
"Age Like Fine Wine"
"Just like fine wine, you get better and more refined with each passing year. Happy 31st!"
"Dream Big at 31"
"At 31, keep dreaming big and reaching for the stars. You have the power to turn your dreams into reality."
"Flipping the Page at 31"
"As you flip the page to 31, remember that the best stories of your life are yet to be written."
"Living Life, Loving 31"
"Here's to living life to the fullest and embracing all the love and happiness that 31 brings."
Quotes That Capture the Essence:
Quotes have a magical way of encapsulating emotions and thoughts. Here are a few quotes that beautifully capture the essence of turning 31:
"In the tapestry of life, 31 is a thread woven with experience and dreams."
"31: An age where you're old enough to know better, but young enough to do it anyway."
"Life is a canvas, and at 31, you're the artist creating a masterpiece."
FAQs About 31st Birthday Quotes
Q: What's a good way to wish someone on their 31st birthday?
A: You can wish them by saying, "May this new chapter of your life at 31 be filled with joy, growth, and endless possibilities!"
Q: What's a creative birthday idea for someone turning 31?
A: Plan a "31 Flavors of Life" party, where each flavor represents a unique aspect of their journey so far.
Q: What's a lighthearted 31st birthday quote?
A: "Age is merely the number of years the world has been enjoying you. Keep spreading the joy at 31!"
Use these 31st Birthday Quotes on your Instagram posts.
Q: How can I make a 31st birthday memorable?
A: Create a memory jar with notes from friends and family, sharing their favorite memories and wishes.
Q: What's a good theme for a 31st birthday celebration?
A: Choose a "Vintage Vineyard" theme, symbolizing how life gets better with age, just like fine wine.
Q: What's a way to celebrate a 31st birthday for an adventure enthusiast?
A: Plan an outdoor adventure day, like hiking or kayaking, followed by a cozy bonfire and stargazing.
Conclusion:
Celebrating the 31st birthday is all about embracing the journey of life – the experiences, lessons, and growth that come with each passing year.
Our collection of top 10 31st birthday quotes offers you heartfelt and delightful ways to convey your warm wishes. Whether you're raising a toast to 31 years of memories or looking ahead to the exciting adventures yet to come, these quotes capture the essence of this wonderful milestone.
So go ahead, celebrate with joy and make the 31st birthday truly remarkable.
Read More